Expert Training
Download our user guidelines
Office workers sit for 10 hours each day
Growing international scientific research concludes that excessive and prolonged sitting (irrespective of level of physical activity) may lead to increased risks of:
Heart disease

Diabetes(T2)

Mental Health
Multiple cancers

Backache

Obesity
Training and education increases sit-stand usage by 300%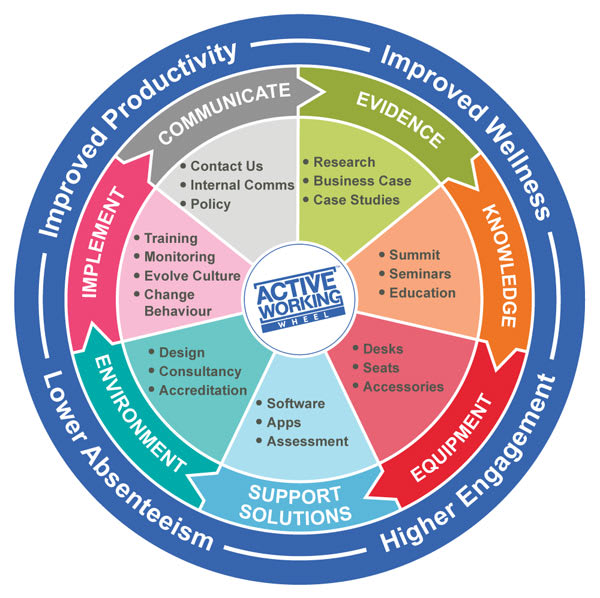 Sit-Stand.Com provide best in class
Active Working®
certified
materials, training and seminars
which incorporate simple 'behavioural' steps to get people standing and moving more frequently as part of their working day.
The target is to reduce regular office sitting time by a minimum
of 2 hours a day
by a series of regular activity interruptions which include standing at your desk, standing in meetings, walking meetings and ad hoc movement activities.
We may fund a member of
Active Working® team
to visit your office and guide you to the optimal advice to ensure you engage your people to make the most of ergonomics and sit-stand solutions to adopt new office culture practices.
Active Working Wheel®
Active Working®
increases employee wellness and performance through break-up and reduction of workplace sedentary behaviour.
Our fully integrated expert approach means our clients source the optimal mix of solutions with the necessary training and support to
maximise the benefits
and
return on investment
.
Sit-Stand.Com
is an official sponsor of
On Your Feet Britain®
.
Download here
copies of FREE Official Posters.